About Me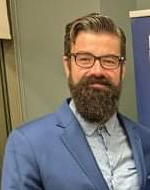 I am an Assistant Professor in Health Informatics and Information Systems at the University of Ottawa. I also hold an Adjunct Faculty position at the Faculty of Computer Science at Dalhousie University. Before that, I was a Research Associate and Post-Doctoral Fellow at the NICHE Research Group at Dalhousie University. I was a teaching assistant for 6 years at the Vrije Universiteit Brussel, obtaining the degree of Doctor in Sciences in 2013.
Research Interests
My research interests lie at the crossroads of Knowledge Representation and Reasoning (KR), Information Systems (IS) engineering, and Mobile Computing. In particular, I am interested in applying these technologies to innovate domains such as healthcare, law, government and business.
Publications
2012
2011
Efficient Mobile Querying of Distributed RDF Sources Inproceedings
In: Antoniou, Grigoris; Grobelnik, Marko; Simperl, Elena Paslaru Bontas; Parsia, Bijan; Plexousakis, Dimitris; De Leenheer, Pieter; Pan, Jeff Z. (Ed.): Proceedings of the 8th Extended Semantic Web Conference (Poster), Springer-Verlag, Heraklion, Greece, 2011.
2010
Assisting Mobile Web Users: Client-Side Injection of Context-Sensitive Cues into Websites Inproceedings
In: Kotsis, Gabriele; Taniar, David; Pardede, Eric; Saleh, Imad; Khalil, Ismail (Ed.): Proceedings of the 12th International Conference on Information Integration and Web-based Applications & Services, pp. 443–450, ACM, Paris, France, 2010, ISBN: 978-1-4503-0421-4.
Applying Semantic Web Technology in a Mobile Setting: The Person Matcher Inproceedings
In: Benatallah, Boualem; Casati, Fabio; Kappel, Gerti; Rossi, Gustavo (Ed.): Proceedings of the 10th International Conference on Web Engineering, pp. 506–509, Springer-Verlag, Vienna, Austria, 2010, ISBN: 3-642-13910-8, 978-3-642-13910-9.
2009
A Framework for Decentralized, Context-Aware Mobile Applications Using Semantic Web Technology Inproceedings
In: Meersman, Robert; Herrero, Pilar; Dillon, Tharam S. (Ed.): Proceedings of the Confederated International Workshops and Posters on On the Move to Meaningful Internet Systems, pp. 88–97, Springer-Verlag, Villamoura, Portugal, 2009, ISBN: 978-3-642-05289-7.
2008
2007
0000
Decision Support for Comorbid Conditions via Execution-Time Integration of Clinical Guidelines Using Transaction-based Semantics and Temporal Planning (under review) Journal Article
In: Artificial Intelligence in Medicine, 0000.